ERIC BLEGEN, BA
EXECUTIVE DIRECTOR
Eric joined Harmony Hill in 2001, directed our Capital Expansion Project between 2003 and 2008 and served as Deputy Director for almost 5 years prior to taking on the role of Executive Director. His background includes over twenty years of financial and personnel management for non-profits and for-profit organizations. Eric lives with his family in Union, is an outdoor enthusiast, has traveled the world and is very involved in the local community. He stewards the mission of healing and wellness at Harmony Hill, bringing together the talents of staff and faculty with the community we serve.
GRETCHEN SCHODDE, MN, ARNP, FNP-BC, NC-BC
FOUNDER & EXECUTIVE DIRECTOR EMERITA, INTEGRATIVE NURSE COACH
Gretch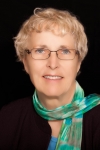 en Schodde, MN, ARNP, FNP-BC, NC-BC is the Founder and Executive Director Emerita of Harmony Hill Retreat Center. After attending a retreat at St. Andrew's House in 1985, Gretchen decided to open a small retreat center and wellness community on the adjacent property now known as Harmony Hill. In 1994, she founded the Harmony Hill Cancer Program, still the best known program offered at Harmony Hill. Gretchen has been part of almost every Cancer Program workshop and retreat at Harmony Hill, helping to facilitate thousands of individuals through their cancer journey.
Gretchen is a family nurse practitioner, a former University of Washington Assistant Professor, and one of the first nurse practitioners in the State of Washington. She is a board certified Integrative Nurse Coach, an Associate faculty for the Integrative Nurse Coach Association, and also co-facilitates retreats on the sacred Isle of Iona in Scotland. She has received numerous awards for her life's work, including being inducted into the Washington State Nurses Association's "Hall of Fame," Distinguished Career and Transformational Pioneer by NWONE— the Northwest Organization of Nurse Executives, a Lifetime Achievement Award from the Advanced Practice Psychiatric Nurse Practitioners, the Humanitarian Award from the University of Washington School of Nursing and in 2015 the Washington State Medal of Merit. Gretchen has a life-long commitment to all aspects of health and well-being, loves to garden, cook, and read; and enjoys music in her spare time.
Board of Directors
LARRY NAKATA
President
TRACY MERRIFIELD
Vice President
ROBIN TREMPER
Secretary
STEVEN A. FINLEY
Treasurer
ROSEMARY M. TRACY, MFC
Immediate Past Vice President
JANE SHANAMAN GRANUM
PAM HANSON
KATHERINE SCHMIDT
DEBORAH TAYLOR
PATRICIA WOLFROM