Harmony Hill offers a beautiful and quiet setting for your unique special event. Our site and accommodations provide the perfect place to gather before, during and after your special event, family reunion or celebration of life. Facilities are available for conferences, seminars and workshops, strategic planning meetings, team building and staff retreats, weddings, celebrations of life, family gatherings or simply as a place for a group to relax.
Harmony Hill offers six meeting spaces and overnight accommodations for up to 34. Additional accommodations include trundle beds and tent platforms. Our sleeping rooms are primarily double-occupancy with shared bathrooms, ADA-accessible sleeping rooms and bathrooms are available. Your group of 30 or more will have exclusive use of the campus, we also have options for smaller groups. Rental services include chairs, tables and cloths, pre-event consultation, event staffing, room set-up and clean-up, podium, sound and projection equipment as well as on-site event catering for up to 125.
Our guest services specialists are expert at planning, and executing, events with a difference. They will supply floor plans and detailed pre-event planning  that meets your specific needs. Fill out our Rental Request form or call today to begin your event at Harmony Hill, 360.898.2363, email guestservices@harmonyhill.org.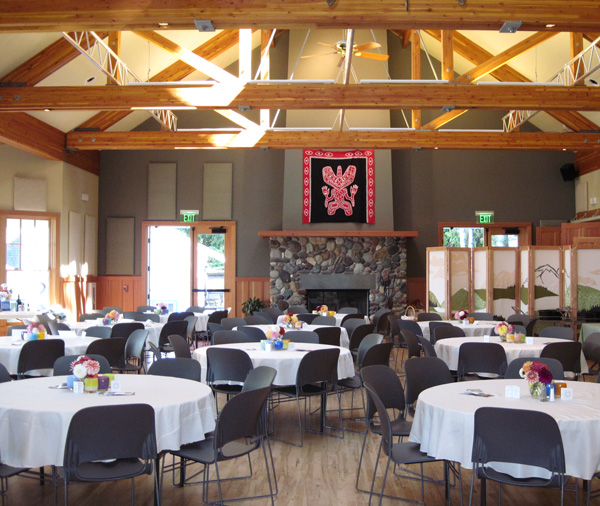 Our premier multi-purpose facility, the 4000-sq.ft. Great Hall was BuiltGreen™ in 2006 and features two meeting rooms with fireplaces, a spacious entry foyer, a building-wide sound system, restrooms with showers and a patio with panoramic views of Hood Canal and  Olympic Mountains. The 2,000-sq.ft. Pontes Performance Space features skylights and floating hardwood floors ideal for movement, dance, or exercise. This space accommodates up to 50 for movement, 125 for catered seating, or 175 in theater-style seating. The cozy, comfortable 350-sq.ft. Gathering Room holds up to 20 for meeting/breakout space.
The Creekside Lodge includes the Runnings Conference Room, a 375-sq.ft. meeting room for up to 25 with flexible seating options. The meeting room includes a gas fireplace and easy access to a large deck. Built in 2005 to Built-Green™ standards, the Creekside Lodge provides overnight accommodations for up to 14 guests and kitchenette.
The Gatehouse features sustainable bamboo flooring and non-toxic finishes. Built in 2010, the building can sleep up to six in three separate bedrooms each decorated in a beautiful theme and featuring private bathrooms.
Built in the 1920's, the Lodge houses our main kitchen and dining room facilities; the gift shop and resource library. The Lodge accommodates up to 10 in the meeting space and can sleep up to 10 overnight. Up to 44 people can be seated in the Guest Lodge dining room.
Built in the 1920's, the Cottage has a special beach house charm. The 512-square foot living room can be used as a meeting space for up to 25 individuals and opens to a covered porch with spectacular Hood Canal and Olympic Mountain views. The Cottage sleeps up to 8, has two shared bathrooms, a full kitchen and offers spectacular canal and mountain views.
The multi-purpose, 700-square foot circular wood and canvas structure is great for movement, music or art activities. The heated yurt accommodates up to 40 for a meeting or informal gathering, 15 for movement activities. The yurt is also used for overflow sleeping accommodations.
Built in 2010, four secluded tent platforms are located just up the hill from the Great Hall, with easy access to the Harmony Hill trail system. Use of rustic platforms includes access to civilized indoor bathrooms, showers, refrigerators and microwaves.